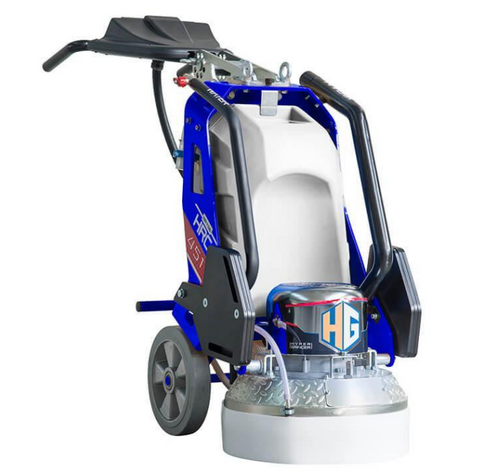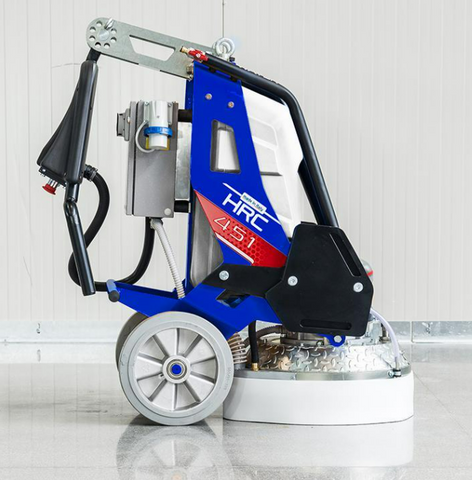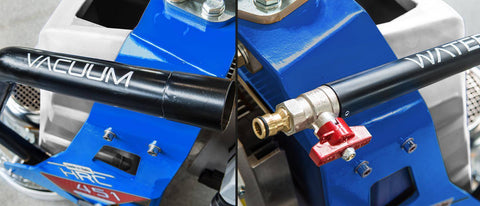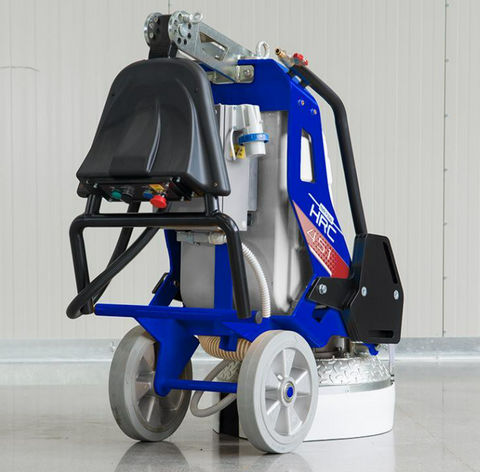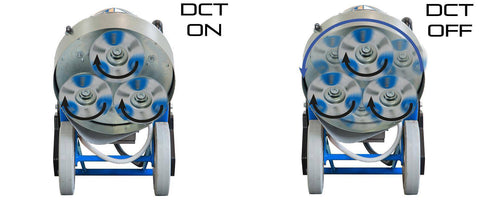 Hyper Grinder HRC 450/451 Grinder
Description
Specifications
Helpful Guides
Reviews
Hyper Grinder HRC 450/451 Grinder - Professional grinder with exclusive double rotation system DCT (Dual Cut Tech)
The DCT system allows you to choose to smooth use only using the rotation of the tools (DCT ON mode), or with the classic complete rotation of the planetary (DCT OFF mode).
The new range of HRC grinders introduces the exclusive DCT transmission. Thanks to this innovative function, it is possible to lock the rotation of the main plate and allow only the rotation of the tools simply by pressing a lever on the planetary (DCT ON). With the DCT in the ON position you gain higher speeds of the satellites for a more aggressive and effective grinding. The DCT ON system is ideal for glue and resin removal work, surface preparation and floor leveling. Turning off the DCT (DCT OFF) lever will cause the main plate to rotate in the direction of the tools. In DCT OFF mode the planetarium is counter-rotating for general polishing, marble polishing, natural stone and concrete.
DCT ON: Only allows rotation of the tool holder satellites, this option makes HRC extremely effective and aggressive for the preparation, removal of glues and resins, for leveling the surface and for rapid exposure of the concrete aggregate.
DCT OFF: Allows rotation of the planetary in counter-rotating mode, ideal for sanding and polishing concrete, marble and natural stone floors. 
Features:
Single-shell chassis, robust and compact for less space
180 degree overturning system for extra weight - The displaced weights increase the grinding pressure. The weights moved back facilitate the tilting operation for tool changes. (Optional)
46 liter water tank
Powerful front and rear LED spotlights (optional)
Total transmission with heat treated gears for maximum reliability and durability
Noise reduction levitating planetarium
Available in Single Speed or Variable Speed.
Specifications:
Motor - 2.5 HP
Volt - 110
Hertz - 60
Tool Speed - 600 (SS), 400-900 (VS)
Work Diameter - 450 mm 
Water Tank - 46 Liter
Dimensions - 120 x 125 x 47 cm
Weight - 265 lbs
***Pigtail without plug included with machine***

***Power cord not included with machine***
Used For Surface(s)
Engineered

,

Application Type(s)
Grind

,

Weight

265.0 lb

265.0 lb