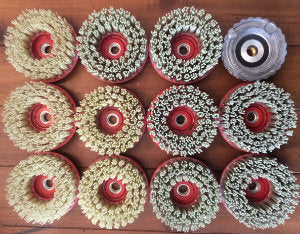 HT Snail Lock Diamond Brushes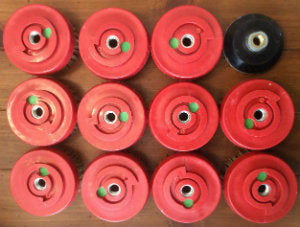 HT Snail Lock Diamond Brushes
HT Snail Lock Diamond Brushes
Description
Specifications
Helpful Guides
Reviews
HT Diamond Antiquing Brushes are a more economical option for these aggressive brushes and are comparable to the Tenax brushes. Excellent for breaking or removing the polish on stone. Will leave a different texture than HT Silicon Carbide brushes.
Available in 4 & 5 Inch size.
Available in 36, 46, 60, 80, 120, 240, 320, and 500 grit.
Can be used on existing tools.
Snail Lock backer needed.
Used For Surface(s)
Concrete

,

Granite

,

Marble, Limestone, Travertine

,

Serpentine

,

Application Type(s)
Antique / Texture

,

Weight

1.0 lb

1.0 lb

1.0 lb

1.0 lb

1.0 lb

1.0 lb

1.0 lb

1.0 lb

1.0 lb

1.0 lb

1.0 lb

1.0 lb

1.0 lb

1.0 lb

1.0 lb

1.0 lb

1.0 lb

10.0 lb