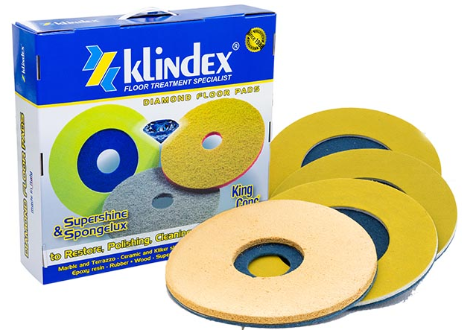 Klindex Supershine Plus Kit
Description
Specifications
Helpful Guides
Reviews
Supershine & Spongelux - New and revolutionary diamond discs to restore the gloss on marble floors and terrazzo. Used regularly, they maintain floors always bright as just polished. Easy to use. Use them as a normal "floor pad" disk with mono brush machines or auto scrubbers. They remove scratches, even deep, clean and polish.
Supershine Plus, with semi-rigid support, is recommended with the use of "mono brush machines" to re-polish perfectly and in a short time also very old and worn out floors, getting results comparable to those obtained with the professional Floor Care Machines. They leave a mirror and glide polished surface without "the orange peel effect" which generally leaves the competitors diamond abrasive discs on soft support. They remove deep scratches and restore acid, wine, coca cola or other products stained-floors.

Supershine Plus Kit includes Supershine 1, 2, 3, and Spongelux pads.
Spongelux is a special sponge disc, that is able to wash and polish with only one step. Thanks to its special composition. Spongelux is the ideal solution for standard maintenance of all type of surfaces since it provides great results and keeps floors shining forever.
Available in 6 inch, 13 inch or 17 inch size.
Used For Surface(s)
Marble, Limestone, Travertine

,

Terrazzo

,

Application Type(s)
Weight

5.0 lb

5.0 lb

5.0 lb