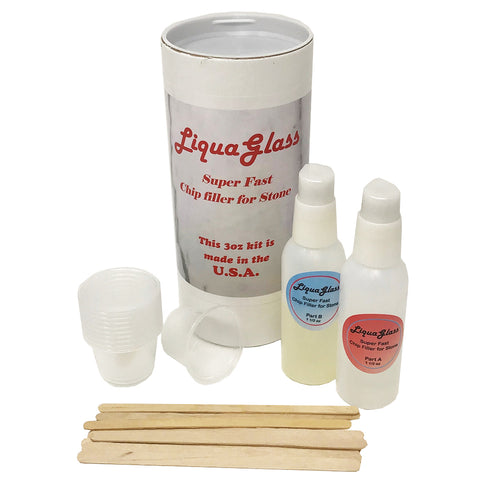 Description
Specifications
Helpful Guides
Reviews
LiquaGlass Kit is a fast, water clear epoxy for easy chip fills.
LiquaGlass is a revolutionary product that will save you time and money. It is a super fast water clear epoxy for filling chips and holes in stone.
This product will dry in 12 minutes when used according to instructions with a heat gun. Once dry, you can scrape it flush with a razor blade if that is how you want to work it. If you slowly draw the glue over the chip with a razor blade and let it dry flush, it will not require scraping.
Left at room temperature, the glue will take 90-120 minutes to reach full cure. If it is humid where you are, then the time may increase slightly.
This glue will dry clear - clear like glass! It dries with gloss and since there is no shrinkage, you can fill the chip, blade it flush and just let it dry!
Kit includes:
(1) Glue
(10) Mixing Cups
(10) Mixing Sticks
(1) Set of Instructions
***GROUND ONLY SHIPPING***
Used For Surface(s)
Application Type(s)
Repair

,

Weight

0.0 lb
Net Orders Checkout
| | | | |
| --- | --- | --- | --- |
| | | Subtotal | $0.00 |
| | | Shipping | |
| | | Total | |
---
Shipping Address