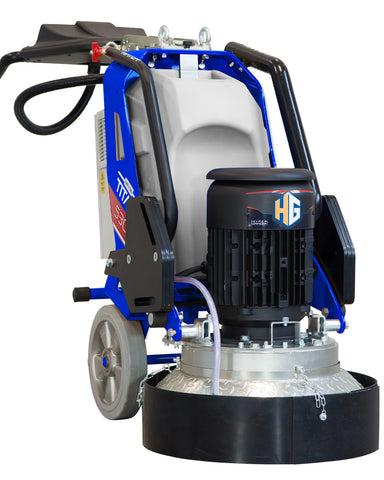 Titan 530 VS Hyper Grinder Machine
Description
Specifications
Helpful Guides
Reviews
Special Order Item
Titan 530 Variable Speed Hyper Grinder Machine is a compact, performing grinding and polishing machine equipped with a one way, fully geared rotating planetary and variable working speed, from 600-1300 rpm.
HG TITAN 530 VS MACHINE PACKAGE INCLUDES 2FT PIGTAIL CORD WITH PLUG, 3) 9" VELCRO BACKER, 21" BACKER, 21" NYLON BRUSH, 2) 180 DEGREE SIDE WEIGHTS AND 3) READY COOL 9.5" PLATES, LED LIGHTS FRONT AND REAR
The Titan 530 VS comes standard with a total mechanical transmission with thermoset gears for maximum reliability and durability. This machine is ideal for large marble, terrazzo, granite, and concrete surfaces. It also works great when used for the preparation of industrial floors, bush hammering, grinding, fast removal of old glues and resins, and mirror-polished concrete. It comes equipped with a 46 liter water tank and an adjustable handle up to 90 degrees. Another great feature of the Titan 530 VS is the versatile use of added weights, sold separately. Move the weights to the front to gain grinding pressure or move them to the back to facilitate the tool changes tilting operation. The Titan 530 VS allows quick and easy removal of the planetary head to add 21" diamond tools, brushes, floor pads or bush hammer.
Powerful front and rear LED spotlights are included
Additional Specifications: 7 Hp, 220-1/3 phase Volt, 50/60 Hertz, 30/20 Amp.
Special Order Item - Call 888-509-5831 to order.
| | |
| --- | --- |
| Used For Surface(s) | |
| Application Type(s) | |
| Weight | 534.0 lb |