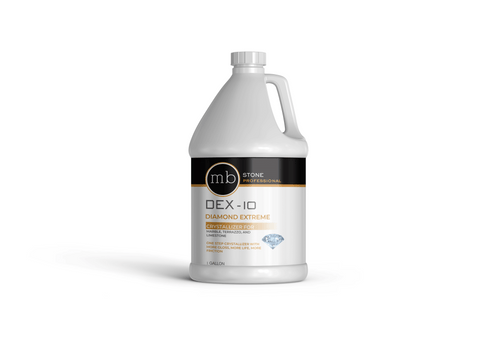 Dex-10 Diamond Extreme Crystallizer
Description
Specifications
Helpful Guides
Reviews
Dex-10 Diamond Extreme Crystallizer for Marble, Terrazzo, and Limestone
One step Crystallizer with more gloss, more life, more friction!
Available in 1 gallon size. Each gallon comes with 16 oz measuring bottle with sprayer.
Frequently Asked Questions About Our Marble Crystallizer
If you're looking for the perfect product to give your marble, terrazzo, travertine, or limestone surfaces a glossy shine, then Dex-10 Diamond Extreme Crystallizer may be just what you need. It provides a sheen and can help bring your surfaces to life in just one step.
To help you learn more about this product, we have drawn up a list of questions and answers.
Suppose you still have questions after reading these FAQs. In that case, you can feel free to get in touch with us, and we will address your concerns.
Please refer to instructions on the product for detailed information on application and use. If anything is unclear, you can contact us, and we will gladly provide clarification.
You would use a crystallizer on natural stones that are difficult to polish. It will help even out the polished finish and reduce the splotchy effect of some stones. To learn more about how to use this product or how to treat natural stone professionally, please check out our training program and the various other resources available on our YouTube channel.
This product does not have a long drying time. As soon as you are done buffing, the terrazzo crystallizer will be cured.
Yes, this is what it's designed for.
Absolutely. This marble crystallizer also works well on terrazzo, travertine, and limestone. We always recommend applying a small quantity to an inconspicuous area first and getting in touch with us if you require more information.
You should use marble crystallizer products during regular service intervals. It can be applied several times before needing to hone or polish again. However, keep in mind that it's not meant to be used as a maintenance tool for regular cleaning.
This will depend on the type of sealer that was used on the floor. If the surface was sealed with an impregnating sealer, then yes, you can apply Dex-10 Diamond Extreme Crystallizer over it. However, if it were sealed with a topical sealer, then that would need to be removed first before using this product.
Suppose you require more information on how to use this product or need to treat etched areas first. In that case, you can contact the MB Stone Pro team, and we will assist. Call us today at (888) 509-5831 or fill out the online form on the Contact Us page.
Used For Surface(s)
Marble, Limestone, Travertine

,

Terrazzo

,

Application Type(s)
Polish

,

Weight

9.0 lb