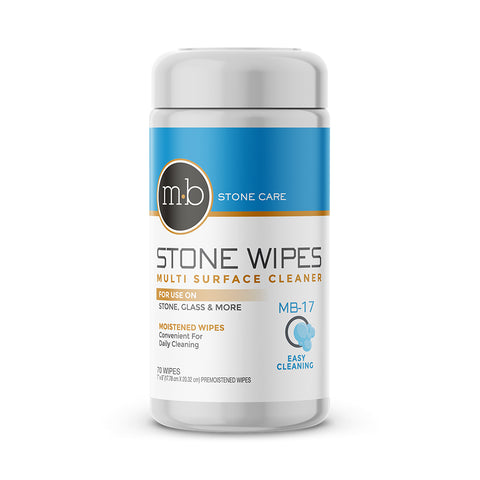 MB Stone Care MB-17 Stone Wipes
MB Stone Care MB-17 Stone Wipes
Made in the USA
$20.97
Description
Specifications
Helpful Guides
Reviews
MB Stone Care MB-17 Stone Wipes are pre-moistened with an adapted formulation of the extremely popular MB Stone Care MB-5 Stone & More Spray Cleaner. Nothing beats the practicality and convenience for wiping down your countertops. They are also great for light daily cleaning of your shower stalls! MB-17 Stone Wipes are the easiest and quickest way to clean your marble, granite and more and keeps it looking like brand new.
Pre-moistened with a powerful ammonia-free formula, MB-17 Stone Wipes will remove dust, dirt, oil and grease smudges, water spots, fingerprints and smoke film from marble, granite and more and leave it with a dazzling shine. MB-17 Stone Wipes won't leave behind streaks or a sticky film to cloud your visibility.
Also available in 6 Can Case. Call for pricing. (888)509-5831
DIRECTIONS FOR USE: Wipe surface to be cleaned with towel. Discard after use.
DIRECTIONS FOR DISPENSING:
Remove lid by lifting upward.
Pull towel from center of the roll and thread through the "X" on the underside of the lid.
Close lid. Pull towel at 90 degree angle.
Snap hinged cap back into place to ensure towels stay moist.
MADE IN THE USA
Used For Surface(s)
Engineered

,

Granite

,

Marble, Limestone, Travertine

,

Quartzite

,

Serpentine

,

Slate

,

Terrazzo

,

Application Type(s)
Clean

,

Weight

2.0 lb