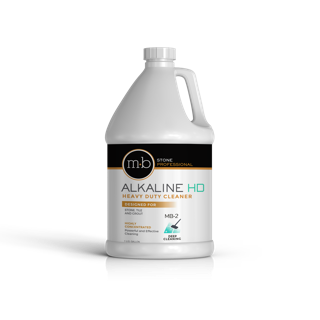 MB Stone Care MB-2 Alkaline HD Heavy Duty Cleaner
Made in the USA
$18.97
Description
Specifications
Helpful Guides
Reviews
MB-2 Alkaline HD Heavy Duty Cleaner is a powerful cleaner designed to tackle the most demanding cleaning jobs on tile, grout and all natural stones. 
A highly concentrated product designed to clean the toughest soils from tiles, grout and all natural stones. This powerful cleaning agent, formulated with the latest cutting edge technology, will clean deep into your grout and any other treated surface effectively and easily.
Also available in 12 Quarts Case and 4 Gallons Case. Call for pricing. (888)509-5831
DIRECTIONS FOR USE: For cleaning tiles, grout and natural stone, mix MB-2 in the following proportions with HOT water:
Light soiling: 3 fl ounces to 1 gallon of water
Medium soiling: 6 fl ounces to 1 gallon of water
Heavy soiling: 8 fl ounces to 1 gallon of water Stronger solutions can be used for extreme soiling conditions.
For routine cleaning use MB-1 for floors and MB-5 for other surfaces.
ALWAYS TEST PRODUCT IN AN INCONSPICUOUS AREA Remove all loose debris from surface to be cleaned. Strip floor from wax or any topical sealers.
Apply the solution liberally with a mop or a sprayer and allow product to dwell. For small areas use a cotton rag or sponge. Level of soiling will determine dwell time. Light soiling may require a very limited dwelling time, a few minutes. The longer the product is allowed to dwell, the easier the cleaning procedure will be. DO NOT let the product dry on the surface being cleaned. Agitate solution with hand-brush or floor machine. Remove solution with mop or, for best results, with a wet & dry vacuum cleaner.
For small areas use a dry cotton rag or sponge.MB-2 is NOT a rinse-free product. Rinse thoroughly with plenty of clear water.
Once the floor is dry, buff to a uniform clean using a white nylon pad. To help prevent deep soiling and staining in the future, apply MB-24 Barrier sealer.
MADE IN THE USA
Find Out More About Our Alkaline Marble Cleaner
MB-2 Alkaline HD Heavy Duty Cleaner is the best alkaline cleaner for hard surfaces like natural stone, tiles, and grout. It has superior cleaning power to tackle even the toughest dirt and grime. If you'd like to know more about this product, keep reading! We answer some of your most frequently asked questions in the Q&A section below.
An alkaline marble cleaner is a kind of cleaning agent created especially for natural stone surfaces. MB-2 Alkaline HD Heavy Duty Cleaner is used to prevent damage to marble and other natural stones because these surfaces are sensitive to acids, and using an acidic cleaner could lead to their deterioration.
Alkaline marble cleaners are basic or alkaline in nature because they often have a pH level above 7. With no etching or discoloration, they are designed to efficiently dissolve and remove dirt, surface stains, mineral deposits, and soap scum from stone surfaces. This strong alkaline cleaner can be used as needed for light to heavy soiling.
Simply decrease quantity of alkaline grout cleaner for light cleaning and increase quantity for heavy soiling.
This alkaline tile and grout cleaner is intended for treating heavy soiling. If you have deep-set stains, you will likely need to try a stain removal poultice. Because the product you use will depend on the type of staining, you will need to contact us for more information.
You will need a hand brush or a floor machine to agitate the stone and tile cleaning solution. You will also require a mop or spray bottle to distribute the solution on the surface.
We recommend trying this alkaline tile cleaner out on an inconspicuous area first. You should also make sure you're wearing gloves to protect your hands from damage when working with this product and wearing a mask if you're sensitive to smells. Make sure you read the safety data sheet prior to use to learn more about safe usage, and get in touch with us if you require more information.
No. MB-2 Alkaline HD Heavy Duty Cleaner is specially designed for acid-sensitive surfaces, so you can rest assured that it will not cause damage. However, it's important to follow the instructions carefully to ensure that you are using the product correctly.
This product is not intended to be a daily cleaner. It can be used as necessary for light to heavy soiling on natural stone, tile, and grout.
Haven't found the answers to your questions? You can learn about MB-2 alkaline tile grout cleaner by getting in touch with us. Call us today at (888) 509-5831.
Used For Surface(s)
Concrete

,

Engineered

,

Granite

,

Marble, Limestone, Travertine

,

Quartzite

,

Serpentine

,

Slate

,

Terrazzo

,

Application Type(s)
Clean

,

Weight

2.4 lb

2.4 lb