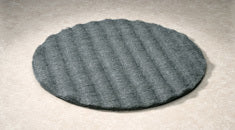 Description
Specifications
Helpful Guides
Reviews
Metrix Steel Wool Pads are made from an exclusive non-woven process, thus making them more compact and longer lasting than competitor pads.
Available Grades: Grade 00, Grade 0, Grade 1 and Grade 2. (Availability varies by size.)
7'' size available in Grade 0 and 1
13" size available in Grades 00, 0 and 1
17" size available in Grades 00, 0, 1 and 2

20" size available in Grades 00, 0 and 1
Can be purchased individually or in case quantities of 12
Ready to give our pads a try? Make your purchase today to find out why this product is rated 5 stars! If you require more information or assistance checking out your cart, add us on social media or give us a call, and we would be happy to answer your questions!
Frequently Asked Questions
Whether you're working on an older house that needs an update or simply polishing surfaces, our steel wool floor pads will help you achieve the wet, sleek look you're after. Our pads range from extra coarse to super fine for every application. Learn more about these pads below, or get in touch with us for more information!
A steel wool pad is a polishing pad that is typically made using interwoven steel fibers. However, our wool polishing pad is made using a non-woven process for extra fine texture and superior durability. These pads crystallize and polish natural stone surfaces, producing a brilliant luster. Polishing with a steel wool pad is a great way to take care of a floor.
No. These steel wool floor pads are only intended for use on certain natural stone surfaces. The finer grades may be used for other hard surfaces, such as wood.
Our super fine steel wool floor pads are suitable for marble, travertine, limestone, and terrazzo surfaces.
This will depend on many factors, such as the frequency of use, cleaning, and the stone it is used on. Our steel wool polishing pads are made using a non-woven process that gives them a longer life and makes them heavy-duty, so you can expect to get good use when you purchase this product.
Yes. Steel wool pads are abrasive, so if used incorrectly, they can cause damage to surfaces. Always follow the instructions and contact us if you have any questions.
You will need a slow-speed floor machine with a speed of 175rpm or lower when using our heavy-duty steel wool pads. Alternatively, you can use a 600rpm hand polishing machine. If you have questions about which machine to use, get in touch with us!
Suppose you have a question about one of our products. In that case, you can get in touch with our team. To contact us, you can use the following communication methods:
The live chat feature on our website

Our social media platforms

Text - 252-289-1584

Phone call - 888-509-5831
Email - mail@mbstonecare.com

No. Our steel wool floor pads are designed for professional use only. They are not suitable for DIY use. Keep in mind that using steel wool pads incorrectly could cause damage to your surface, so it's best to contact a professional for assistance.
Used For Surface(s)
Application Type(s)
Polish

,

Weight

0.5 lb

0.5 lb

6.0 lb

1.0 lb

1.0 lb

6.0 lb

1.0 lb

6.0 lb

1.0 lb

1.0 lb

6.0 lb

1.0 lb

6.0 lb

0.5 lb

0.5 lb

1.0 lb

6.0 lb

1.0 lb

6.0 lb

1.0 lb