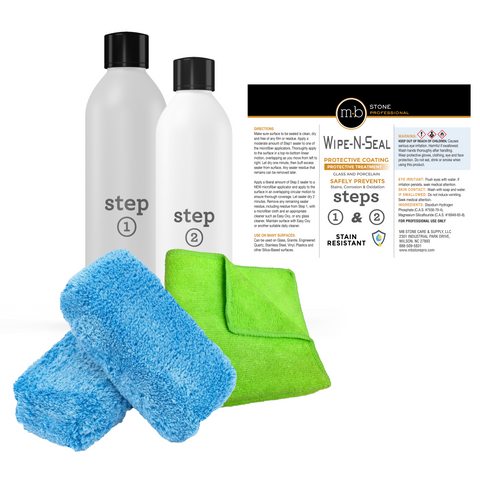 Description
Specifications
Helpful Guides
Reviews
Wipe-N-Seal Pro Kit includes:
8 oz Liquid Super Shield Step 1
8 oz Liquid Super Shield Step 2
(2) Microfiber Sponges
(1) Microfiber Cloth
Super Shield Step 1 is a cutting edge professional sealing kit for use on glass and mirrors. This super phobic product repels oils, water and other hard to remove residues by chemically reacting with silica, forming a covalent bond to prevent staining, corrosion, oxidation, mold and mildew. 
Super Shield Step 2 provides a protective coating that enhances the durability and performance of Step 1. This product provides a highly durable, long-lasting protective coating by bonding to the surface molecular structure of materials such as glass. It will not alter the natural appearance of the surface. It is UV resistant and inhibits the growth of pathogens. Can be used as a stand-alone product or in combination with Step 1. After application of Step 2, the treated surface is highly resistant to corrosion, oxidation and staining. Minor scratching and abrasion is reduced and surfaces are easy to clean and maintain with MB-5 or Easy Oxy spray cleaners.
MADE IN THE USA
Used For Surface(s)
Application Type(s)
Clean

,

Seal

,

Weight

3.0 lb