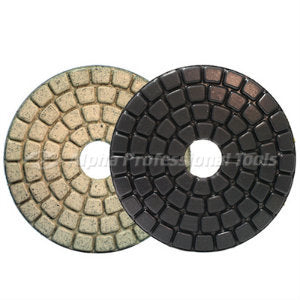 Description
Specifications
Helpful Guides
Reviews
Ceramica Buff -Ultimate Wet Granite Final Polishing
4'' Alpha® Ceramica Buff is the key to the difference from a standard polished edge to a deep glossy finish.
Unlike the rest of the Alpha® Ceramica product line, a large amount of water is not required. The utilization of a natural process to bring out the glossy shine is exclusive to these pads. By using this disc in your polishing process, no dangerous chemicals are necessary to achieve a high final polish.
Fabricators easily achieve superior results with the Alpha® Ceramica Buff.
Tile contractors are amazed by the difference between a polished edge and the super gloss that only Alpha® Ceramica Buff provides.
Monumentalists are ecstatic about the deep glossy finish, which their customers demand, that only Alpha® Ceramica Buff can give.
Tin oxide and aluminum oxide are powders that have been used for years for the final polishing process. Alpha® Ceramica Buff is a heat compressed disc that combines these powders with a natural fiber in a flexible disc.
Available in black for dark stones and white for light colored stones
Alpha® Ceramica Buff is the only disc capable of achieving the better than factory finish that Alpha® Ceramica has become known for.
Black Buff is the only disc that will successfully bring up the shine on the black granites such as Black Pearl and others.
For an especially super high gloss, use both the black and white discs in sequence.
A consistent performer, the professional quality provided by these discs, is unmatched.
The Alpha® Ceramica Buff is for wet granite hand polishing. Hook & Loop MAX RPM 4000
Used For Surface(s)
Granite

,

Application Type(s)
Polish

,

Weight

0.3 lb

0.3 lb