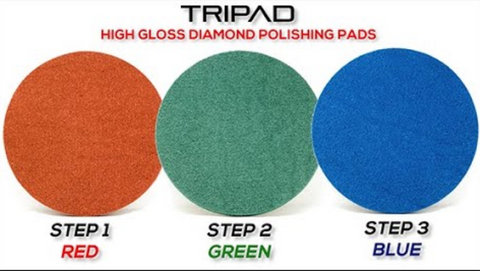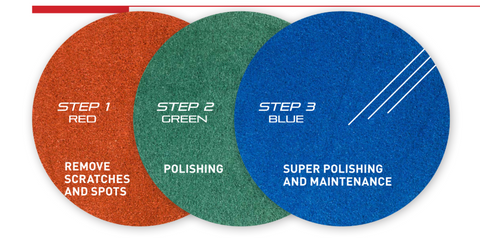 Hyper Grinder Tripad - 3 Step Floor Polishing Pad
Description
Specifications
Helpful Guides
Reviews
HG Tripad is a 3 step floor polishing process that uses only water to achieve the highest level of glossy. The Tripad system is an easy to use 3 step process using color coded pads. 
Red - Step 1 to remove scratches and spots (Approx. 800 grit)
Green - Step 2 for polishing (Approx. 1,000 grit)
Blue - Step 3 for high gloss polishing and maintenance (Approx. 3,000 grit)
Why use HG Tripad versus other pads? Because you want to save time and money. Other features include:
No expensive waxes, detergents, or chemicals to buy
Use only water
Easy to use and great results
Cleans, grinds, and polishes
Makes surface non-slippery
Compatible with any rotary machine
Eco friendly
Available in 6 inch and 17 inch size pads. Set includes red, green, and blue pad.

Used For Surface(s)
Marble, Limestone, Travertine

,

Application Type(s)
Polish

,

Weight

1.0 lb

1.0 lb

1.0 lb

3.0 lb

0.37 lb

0.37 lb

0.37 lb

0.37 lb

1.0 lb

1.0 lb

1.0 lb

1.0 lb