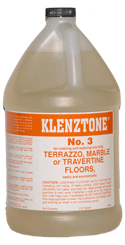 Description
Specifications
Helpful Guides
Reviews
KLENZTONE-3 Stone Cleaner for Terrazo, Marble and Travertine Floors is used for cleaning drivet/efis, because this surface is soft & color is a factor powerwashing & acid cleaning are not options. Klenztone #3 releases dirt & grime without discoloration or damage to the surface, and it can be rinsed with low pressure (200 psi), keeping the surface intact. Klenztone #3 is also used to clean Terrazzo, Travertine & Marble floors that have become dull and dingy after years of stripping and resealing.

Application:

(Before using KLENZTONE, on the surfaces that KLENZTONE-3 is recommended to clean, you must do a patch test.)
Apply KLENZTONE undiluted to the floor, thoroughly saturating it. The best way to do this is to pour the material directly onto the surface and spread it out with a mop. KLENZTONE is not recommended to be run through an autoscrubber.
Allow KLENZTONE time to clean. Use the time determined by your patch test.
Rinse the loosened grime from the surface. Upon determining, KLENZTONE has had enough time to clean, rinse the treated surface. This is usually best done by flooding the floor with water and wet vaccing. However, if available, an autoscrubber can be an ideal way to rinse KLENZTONE on floors. Note: Upon completing cleaning with KLENZTONE, it is intended for surfaces to be sealed. Terrazzo, marble and travertine floors restored with KLENZTONE have the dead appearance of newly ground stone. Sealing brings out the beauty of the floor and releases the color in the stone. K & E Chemical's glossy finish Terrazzo and Marble Sealer® or another quality stone sealer is recommended to be used.
Coverage: 250 - 350 sq. ft. per gallon, depending on the porosity of the surface.
Safety: Wear rubber gloves and safety glasses when handling KLENZTONE, and if it gets on skin or splashes into eyes, rinse thoroughly with water. KLENZTONE has no appreciable odor when used on a clean surface. However, depending on how dirty surfaces are, KLENZTONE can release powerful fumes. Ventilate enclosed areas, and if necessary, limit the size of work areas.
Environmentally Safe: KLENZTONE is readily biodegradable and releases no VOCs When used properly, it poses no threat to the environment. Dispose of all wastes safely, according to federal, state and local regulations.
Storage/Shelf Life: Keep containers sealed when not in use, and to prevent salts from crystallizing, maintain product at a minimum temperature of 50°F. The appearance of the material darkens over time, but when properly stored, shelf life is indefinite.
This product requires special HAZMAT packaging to ship. Please note this product will ship separately from the rest of your order if ordering other products at the same time. ***GROUND ONLY SHIPPING***
Used For Surface(s)
Marble, Limestone, Travertine

,

Terrazzo

,

Application Type(s)
Clean

,

Weight

10.0 lb

36.0 lb