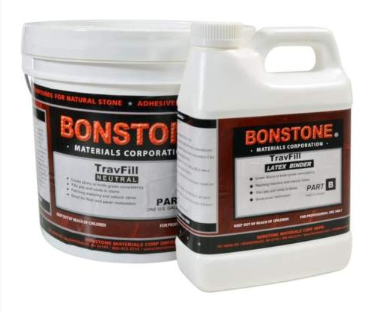 Description
Specifications
Helpful Guides
Reviews
TravFill™ is a two-component, lime-based, latex modified filler material for travertine floors, fabrication of stone slabs and other porous stones.
Applications:
Filling voids and pits in travertine floors

Skim coating vertical stone

Designed for durable aesthetic repairs

Create a honed travertine like finish

Easy to mix and apply to your surface

Designed as a slurry or knife grade application

Slight over fill technique for floor machining
Specifications:
Mix Ratio=add latex to form slurry to mortar consistency

Set Time=1-3 hrs @ 75°F

Easy to use

Fast Cure

Low Cost

Breathable-moisture vapor permeability

UV-stable

7 lb Kit
Available in Neutral (Cream) or Travertine (Brown) colors.
***Note: This is a freezable product, and, during periods of cold weather, shipping may be delayed to ensure the highest quality.
Used For Surface(s)
Granite

,

Marble, Limestone, Travertine

,

Application Type(s)
Weight

7.0 lb

7.0 lb
Net Orders Checkout
| | | | |
| --- | --- | --- | --- |
| | | Subtotal | $0.00 |
| | | Shipping | |
| | | Total | |
---
Shipping Address