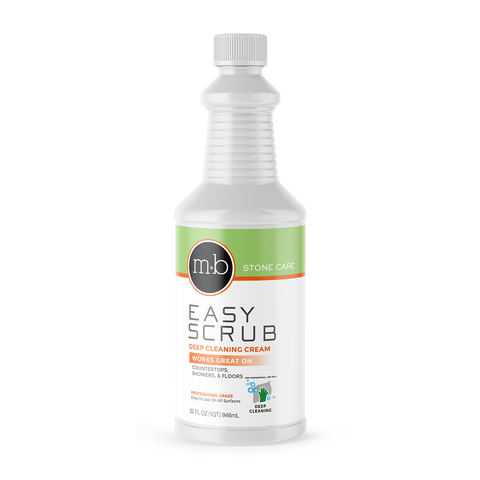 Easy Scrub Deep Cleaning Cream
Made in the USA
$15.97
Description
Specifications
Helpful Guides
Reviews
Easy Scrub Deep Cleaning Cream works great on countertops, showers and floors!
Removes water spots from glass surfaces.
Removes soap film.
Cleans dried food and drink.
Removes oil and grease from surfaces.
Good for an everyday deep cleanser too!
Works on marble, granite, engineered quartz, glass, tile, stainless steel, appliances and more.
Available in quart size bottle. Also available in case quantities of 12 quarts. Call 888-509-5831 for case pricing.
MADE IN THE USA
Frequently Asked Questions
Looking for a scrub cleaner for professional use? Easy Scrub Deep Cleaning Cream can help to remove hard water deposits on stone and glass surfaces.
This scrub cream can be used to effectively exfoliate your stone and glass surfaces. It allows you to clean off heavy mineral deposits without damaging the surface beneath. You can also use it to remove caked-on food and dirt effectively. It works quite quickly, too, saving you time (and money).
Yes. Our stone glass scrub hard water deposit remover works well on almost all stone and glass surfaces and can be used effectively in commercial and residential areas.
Yes. You can order larger quantities if you need this product for commercial or industrial applications. Contact our team if you need assistance.
No. You can scrub clean surfaces by hand or with a buffing machine. The organic cleaning agents in this scrub cleaner work to remove hard water deposits. All you need is a very soft abrasive to gently clean glass shower enclosures and granite countertops.
This scrub cleaner is fast-acting. It should work as you complete the scrubbing process with a very soft abrasive. Sometimes, if you allow it to sit on granite countertops or glass shower enclosures, you won't have to scrub at all.
This is a non-acidic, non-toxic compound and will not cause health effects if used correctly. However, it can cause respiratory irritation if the product dries and the dust from the dried product is inhaled. To prevent this, you can wear a dust mask.
Metal, glass, stainless steel, porcelain, natural stone, travertine showers, and almost any other hard surface can be deep cleaned using this cleaning scrub. Do NOT use it on automotive surfaces.
Absolutely. If you intend to use this stone and glass scrub on quartz, you should apply it with light pressure and a microfiber cloth. Heavy-handed scrubbing could dull quartz.
Yes! This glass cleaning cream will deep clean glass shower enclosures and glass shower doors when used with a very soft abrasive. We advise using a polisher with a white pad when applying it to bathroom surfaces for best results.
You can use this product on polished stone surfaces. You can use it to clean granite countertops and other polished stone surfaces. If you need more information on how to use this product on polished stone, check out the video tutorial or contact us.
No. If you follow the instructions correctly, it will not cause metal surfaces to rust.
Have more questions about our scrubber cream? We are happy to help! Reach out to us using our live chat feature, online form, or via telephone or email.
Used For Surface(s)
Granite

,

Marble, Limestone, Travertine

,

Application Type(s)
Clean

,

Weight

2.5 lb