MB Stone Care MB-5 Stone and More Value Pack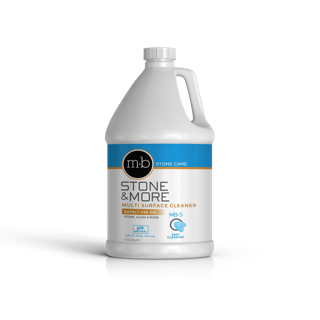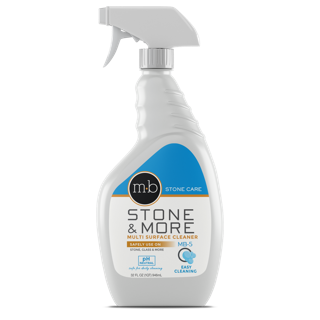 MB Stone Care MB-5 Stone & More Multi Surface Cleaner
Made in the USA
$15.97
Description
Specifications
Helpful Guides
Reviews
MB-5 Stone & More Multi Surface Cleaner uses a pH neutral combination of special chemicals that quickly and easily cleans marble, granite, ceramic, corian, porcelain, glass, including mirrors and most other hard surfaces. It also works great on bath and kitchen fixtures. Safe to use daily. Not designed to clean heavily soiled areas or remove soap build up. (For heavy duty cleaning and removal of soap build up, use our MB-3 Soap & Mineral Deposit Remover.) 
Available in case quantity of 12 quarts or 4 gallons. Call (888) 509-5831 for pricing.
Both quart size and gallon size come ready to use. 

DIRECTIONS FOR USE: Hold sprayer about 6 to 8 inches from surface, then spray a light mist over the area to be cleaned. Let the product sit for approximately 30 seconds. Buff the surface dry with a paper towel or a clean white cloth. When towel becomes wet, discard and start with a fresh one.
More About Our Marble Spray Cleaner
MB-5 Stone & More is an effective and safe product that can be used on several hard surfaces. With packaging that makes it easy to use and an affordable price, you'll find yourself reaching for this incredible product on a daily basis! Learn more about it in the FAQ section below.
pH-neutral cleaners are designed to be gentle on natural stone surfaces and will not harm or etch the finish. Using a cleaning product that is not intended for hard surfaces might cause damage and a loss of shine over time. Because acidic cleaning products react with natural stones and cause deterioration over time, utilizing a pH-neutral solution can protect and extend the lifespan of your natural stone countertops.
Absolutely! This cleaner was designed to be safe to use on natural stone on a daily basis. It offers great value for money, as it can be used on many different surfaces, so you won't have to pay for multiple cleaning agents.
This is a fantastic product for just about any stone surface. It may be used on marble, granite, quartz, travertine, onyx, slate, limestone, and more. It also works well on most other hard surfaces and can also be used as a pH-neutral glass cleaner.
This is a pH-neutral cleaner that requires no rinsing, and it is food safe as well. It's also suitable for use on surfaces that your kids and pets may come into contact with.
Absolutely! This cleaner is designed to give you a streak-free shine on your stone surfaces.
Our stone cleaner spray is designed for your light everyday cleaning. If you require a product to help with heavy-duty cleaning, we have specialty products. Should you need help deciding what is going to be best for you, contact us, and we will gladly assist.
At MB Stone Pro, we are committed to providing advice and support. If you need more information about this pH-neutral granite cleaner, you can contact us using one of the following options:
Give us a call at 888-509-5831.
Chat with us on social media.
Text us at 252-289-1584.
Email us at mail@mbstonepro.com.
Use the live chat feature available on our website.
Used For Surface(s)
Engineered

,

Granite

,

Marble, Limestone, Travertine

,

Quartzite

,

Serpentine

,

Slate

,

Terrazzo

,

Application Type(s)
Clean

,

Weight

2.4 lb

2.4 lb

2.4 lb