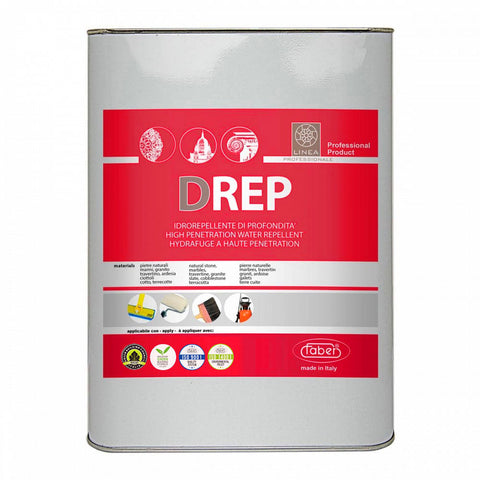 DREP Solvent Based Sealer
Description
Specifications
Helpful Guides
Reviews
DREP Solvent Based Sealer
DREP is a solvent based, water repellent, impregnating treatment with low odor for natural stones and absorbent surfaces. It will not alter the tone or color of the surface and does not form a surface film.
Specifically formulated for the protective treatment of absorbent surfaces in order to drastically reduce the absorption of water, avoiding the problems connected to it.
Suitable for application, both indoors and outdoors, on walls and floors, to safeguard the original appearance of surfaces, facilitating their maintenance and cleaning. DREP can also be applied before installation to protect from moisture and drastically reduce the drying time of the floor. 
DREP is also extremely effective when used as a water repellent protective primer before applying a surface stain remover. The action of DREP favors and maximizes the stain resistant effectiveness of the protective product, thus increasing its duration over time and resistance to pedestrian traffic.
Available in 1 liter size.
***GROUND ONLY SHIPPING***
Used For Surface(s)
Granite

,

Marble, Limestone, Travertine

,

Application Type(s)
Seal

,

Weight

3.0 lb