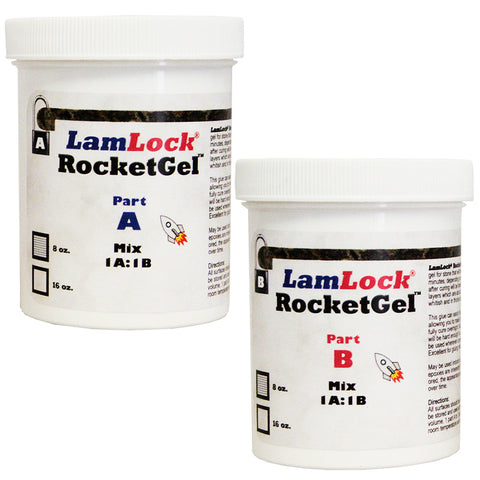 Description
Specifications
Helpful Guides
Reviews
LamLock RocketGel Basic Bundle is a very versatile do-it-yourself kit.
It includes LamLock RocketGel, a fast setting, permanent bond epoxy and an 8 piece coloring kit that will allow you to match any color on all kinds of stone, cement, wood or other porous materials.
LamLock RocketGel is a fast curing epoxy gel for stone that will harden and be tack free in 25 minutes, depending on mass size. This glue can easily be colored with pigments allowing you to make it any color you want. It will fully cure overnight. Shortly after curing, it will be tack free and hard enough to scrape, grind or polish.
May be used wherever a permanent bond is desired. Excellent for gluing mitered edges, fills and seams. May be used indoors or outdoors. However, since epoxies are inherently UV stable, if left uncolored, the appearance will darken in direct sunlight over time. With the epoxy opaque, it will remain UV stable.
Bundle includes: (8) Pigments (Black, White, Blue, Brown, Red, Green, Yellow, Buff), (1) 8 oz Part A, (1) 8 oz Part B
16 oz Kit includes: (1) 8 oz Part A, (1) 8 oz Part B
***Ground Only Shipping***
Used For Surface(s)
Application Type(s)
Repair

,

Weight

0.0 lb

0.0 lb
Net Orders Checkout
| | | | |
| --- | --- | --- | --- |
| | | Subtotal | $0.00 |
| | | Shipping | |
| | | Total | |
---
Shipping Address