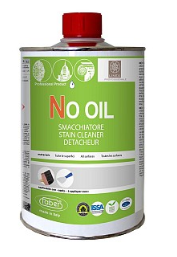 No Oil Stain Remover
Description
Specifications
Helpful Guides
Reviews
NO OIL is a solvent-based stain remover to be used to extract and remove grease stains from all types of surfaces. With its special formulation, the product can offer effective, definitive action on:
Stains from food oil and greasy foods
Stains from mineral oil, engine oil, diesel and lubricants
Greasy stains and bituminous residues
NO OIL is a product that can be applied on all surfaces - even the most delicate types such as polished marbles and acid-sensitive finishes - without attacking them or causing them to lose their shine. The special thick, creamy formula of NO OIL boosts its stain-extracting action, guaranteeing improved efficiency in terms of stain removal. It is also easy to use and effective on vertical surfaces.
Application:
Preparing and cleaning the surface:
Carefully clean the surface, making sure to remove any dust or dirt present.
Never use NO OIL on wet surfaces; make sure that the surface to be treated is dry or at most, only slightly damp.
Do not apply NO OIL to overly heated surfaces. We recommend applying the product during the coolest periods of the day.
In the case in which the surface to be treated has a previous surface layer of wax, proceed to the removal of the same with Double Stripping.
Shake well before use. The product is for use without dilution. Pour the product straight onto the surface being treated. Use a brush, spatula or if simpler, pour directly onto the surface, covering it completely with a thick layer of product.
Leave the product to act on the surface until it is completely dry. The product will become a white powdery residue as it dries. It is fast drying and in any case, no more than 1-2 hours from application.
Once the product is completely dry, proceed to remove the powder residue using a soft bristled broom or clean brush if treating porous material; for compact, non-absorbent materials, the residue can be removed with absorbent paper, a towel or a cloth. Once all powder residues have been removed, wipe the surface with a slightly damp cloth or mop and wait for it to dry thoroughly before assessing the stain removal results. If the finished result is not totally satisfactory, repeat the product application process as described above. If the stain is mixed in origin, it may be a good idea also to use another type of stain remover. When treating particularly porous surfaces, such as sandstone or handmade cotto, after stain removal, it may be necessary to remove any remaining powder trapped in the pores. To do this it is possible to use a vacuum cleaner or liquid cleaner, and an extraction detergent, Deterfug. In more difficult cases, it is possible to use a pressurized washer.
Opening to floor traffic:
After rinsing the surface with water, wait for the floor to dry completely before opening to foot traffic.
Complementary Cleaning and Maintenance Products:
For routine cleaning of a surface treated with NO OIL we recommend: Neugel or Algafloor
For extraordinary cleaning of a surface treated with NO OIL we recommend: Faber 30 or Deterfug, according to the type of surface to be cleaned
Following a stain removal operation using NO OIL we recommend using a damp-proofing and/or stain-proofing treatment to be selected according to the characteristics and intended use of the surface.
Materials: Agglomerate Cement-Marble, Agglomerate Resin-Marble, Agglomerate Resin-Quartz, Slate, Sandstone, Basaltina Lava Stone, Molted Basalt, Cement Tile, Concrete, ceramic Craquele, Ceramic Glazed, Clinker, Coto, Granite, Porcelain Gres Honed, Porcelain Gres Lappato, Porcelain Gres Honed, Porcelain Gres Natural or Structured, Limestone, Marble, Brick Facings, Parquet/Natural Wood, Manufactured Stone (Eco-stone), Porphyry, Quartzite, Terracotta, Travertine, Tuff
Instructions and Guidelines:
NO OIL must only be used alone.
NEVER mix it with other chemicals, except for Faber Poultice thickening powder
Do not apply the product to overly heated surfaces.
Do not apply the product when there is an imminent risk of rain or frost, or in the presence of mist.
While applying the product to the surface concerned it must not be exposed to direct sunlight.
Apply the product to surfaces in temperatures of between +5 and +40°C
When using on recently laid or grouted surfaces, wait for the grout to cure completely.
To achieve a visually pleasing, even result, above all in case of absorbent surfaces, we recommend applying the stain remover by treating areas that are larger than the single stained portions, such as a whole tile or room. These area can be decided according to the size and spread of the stain.
Before applying the product to the whole surface, it is advisable to test a small, unexposed area or unused piece to check its suitability for use. Once applied over the stain to be removed, the product works alone without needing any further processes, until it completely removes the stain.
NO OIL is quick and easy to apply, and its use will not alter the surface's original appearance.
This product requires special HAZMAT packaging to ship. Please note this product will ship separately from the rest of your order if ordering other products at the same time. ***GROUND ONLY SHIPPING***
Used For Surface(s)
Granite

,

Marble, Limestone, Travertine

,

Application Type(s)
Clean

,

Weight

3.0 lb