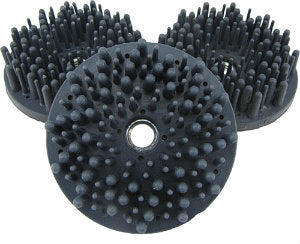 Description
Specifications
Helpful Guides
Reviews
High quality Italian Airflex diamond brushes remove the "softer" material in the stone to create a beautiful texture while enhancing the natural color in the stone. Airflex adds color and forms a beautiful soft antique look.
Grits used to create a typical antique finish:
Start with Filiflex 36, 46, and 60 grits. Made with many narrow bristles, Filiflex removes material more aggressively and cuts deeper to create a nice antique look.
Then finish with Airflex 120, 220, and 300 grits. Higher grits are available to create a "caress" or polished finish.
Brushes available in 5 inch size.
Can be used on existing tools.
Snail Lock Backer needed.
Used For Surface(s)
Engineered

,

Granite

,

Marble, Limestone, Travertine

,

Quartzite

,

Serpentine

,

Slate

,

Application Type(s)
Antique / Texture

,

Weight

2.0 lb

2.0 lb

2.0 lb

2.0 lb

2.0 lb