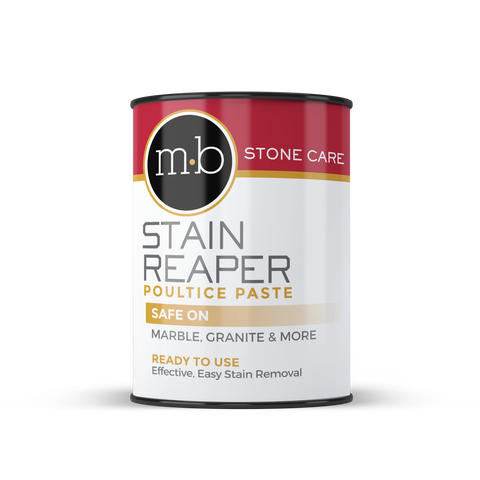 Description
Specifications
Helpful Guides
Reviews
Stain Reaper is a ready-to-use, low-odor paste poultice. It pulls deep-seated oil, dirt, harmful salts and other embedded stains out of sensitive masonry, including polished limestone and marble. No mixing is needed and is easy to use. Safe for all natural stone.
Approximate Coverage: 4 to 6 sq ft per pound or 35 to 50 sq ft per gallon, depending on porosity of stone.
PREPARATION:
Make sure all surfaces not meant to be treated are covered and/or taped for their protection.
DIRECTIONS:
Wet the area to be treated, then apply paste to surface - 1/8 to 1/4 inches thick - using a trowel, airless sprayer or other suitable applicator.
Cover the poultice with protective paper. Press the protective paper against the poultice. It will cling to the surface. Tape/seal off edges of the paper.
Leave the covered poultice on the surface 12–24 hours.
Remove protective paper. If still wet, let poultice dry 2–4 additional hours.
Remove the poultice and captured contaminants. Insert a corrosion-resistant spatula, trowel or other suitable scraping device under the paste, and carefully lift from the surface. Remove as much residue as possible.
Rinse the surface thoroughly with fresh water, using a sponge, soft cloth or low-pressure/low-volume water-rinsing equipment.
Repeat application if needed.
NOTE: Surface and air temperatures should be at least 50° F (10° C). Application when temperature is below freezing or will be overnight may harm masonry. If freezing conditions exist before application, let surface thaw:
MADE IN THE USA
Want to Know More About This Poultice Paste? We Answer Some of Your FAQs!
Have you been looking for poultice paste for granite, marble, and other surfaces? You should give Stain Reaper a try. In the section below, we answer some of the most frequently asked questions about this product.
Absolutely. This poultice paste for marble is specially designed to get rid of stains on your natural stones that may come from food and other organic sources. You can use it to get rid of a wide range of tough stains, such as:
Oil stains
Urine
Wine stains
Food spills
Cooking grease
Coffee
...and more.
No. You cannot use this poultice powder without the addition of water, as the active ingredients are effective only in the presence of water.
We recommend covering the stain removal poultice with paper, as this prevents it from drying out before it has had a chance to remove stains.
No. Stain Reaper is not intended to treat deep-set stains, like mildew stains. If you have such stains, it's best to contact us, and we will direct you to the best treatment method.
Suppose you have a granite countertop that requires treatment. In that case, you will need to create a paste using Stain Reaper and water. Apply it to the actual stain and cover it with protective paper.
Allow the stain remover to sit for 12 to 24 hours. Remove the paper and leave the paste to sit for another two to four hours or until it has dried completely. Lift the dried poultice off the surface and rinse with water.
If you require more assistance, please get in touch with us.
You can use Stain Reaper to remove salts, oil-based stains, dirt, and other organic stains from just about any kind of natural stone surface, including marble, granite, and limestone.
It takes between 14 and 28 hours in total to remove stains. You will have to wait until the poultice paste for the marble stone is completely dry.
A quick Google search will tell you that many DIYers recommend baking soda and peroxide for treating stains on natural stones. While such methods may work for superficial stains, they do nothing for stains that have penetrated the surface of the stone, which is where a poultice past can help.
Haven't found the answers you were looking for? We are here to help! Contact the MB Stone Pro team, and we will gladly assist. We also offer a comprehensive training program, so you should check that out if you're hoping to become a stone care professional.
Used For Surface(s)
Granite

,

Marble, Limestone, Travertine

,

Application Type(s)
Clean

,

Weight

1.0 lb

1.0 lb