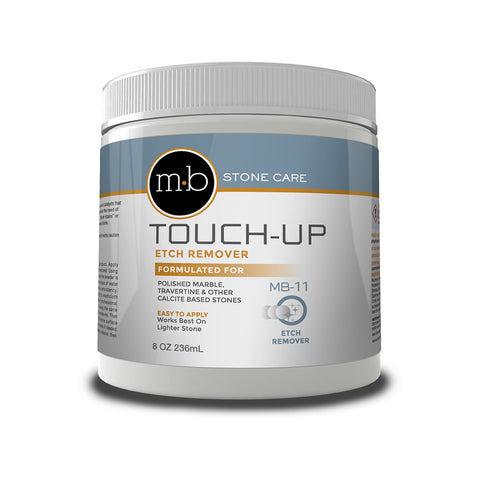 MB-11 Touch-Up (Marble Polishing Powder)
MB-11® Touch-Up Etch Remover
Made in the USA
$36.97
Description
Specifications
Helpful Guides
Reviews
MB-11® Touch-Up Etch Remover (Marble Polishing Powder) is a unique combination of specialty abrasives and catalysts that makes the art of marble polishing relatively easy to implement without the need of any power-tool. MB-11® is designed for spot polishing of most "water stains" or "rings" from polished marble, travertine and any other calcite-based stone.

Be certain to test product first on a spare tile or inconspicuous area for extra caution
Available in 8 oz cans and case quantities of 12. Call for CASE pricing. (888)509-5831 All powders are packed by weight and not by volume.
DIRECTIONS: use rubber gloves all the time when handling product. Apply
approximately 1/8 teaspoon of powder to the dull spot to be restored. Using
a spray bottle, spray a mist of water over the powder making sure all the powder is moistened. If you do not have a spray bottle, you can pour a few drops of water onto the powder from a cup. The mixture should be a wet paste consistency. Using a clean, slightly moistened white piece of cotton cloth (a washcloth will do fine), rub until the area treated is dry. To finish with a"professional touch", spray a bit more water to the area being treated, then using the same part of the cloth with product residue, rub in circles (with a little pressure). Then use a fast back and forth motion (with more pressure) until the stone surface is dry and shiny. This will make for a perfect blend. Repeat the process if needed.

For the final cleaning to eliminate any residue, spray a little MB-5 spray cleaner, then rub it dry.
MADE IN THE USA
Used For Surface(s)
Marble, Limestone, Travertine

,

Application Type(s)
Polish

,

Weight

1.0 lb