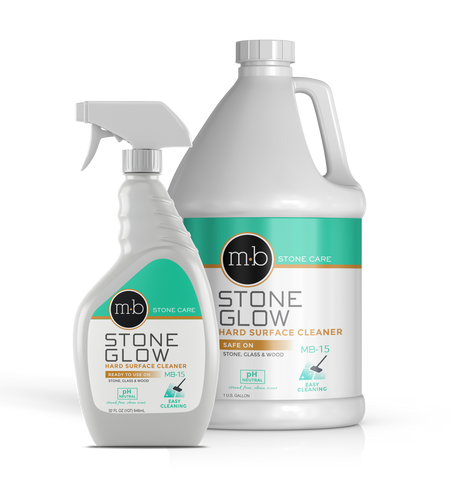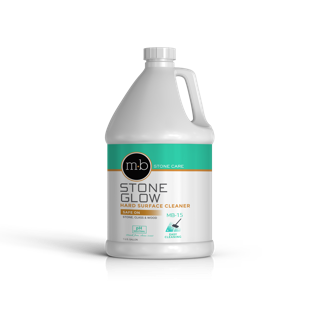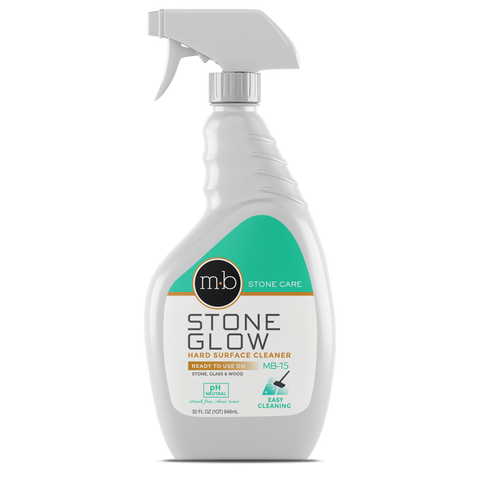 MB-15 Stone Glow Hard Surface Cleaner - Ready to Use Quart or Gallon Size
Made in the USA
$15.97
Description
Specifications
Helpful Guides
Reviews
MB-15 Stone Glow hard surface cleaner is a pH neutral, ready to use cleaner for all hard surfaces, including ceramic, porcelain, wood, glass, and all natural stones- regardless of honed or polished finish. Stone Glow is a superior neutral cleaner as it can be used by homeowners and professionals alike. It is safe to use as a daily cleaner with mop application, as well as in commercial utilities with polishing/grinding machines and auto scrubbers. Stone Glow is quick drying, streak free and contains optical brighteners to enhance the finish of the surface.
Directions for use: Stone Glow Hard Surface Cleaner is Ready to Use. Spray 6-8" from soiled surface, wipe off with a clean absorbent cloth, micro fiber or damp sponge. Surfaces that come in contact with food require a potable water rinse; otherwise rinsing is not usually necessary.
Now available in Ready to Use Quart or Gallon size.
Available in case quantities. Call 888-509-5831 for case pricing.
MADE IN THE USA
Frequently Asked Questions About Our Hard Surface Cleaner
Our best hard surface cleaner is available in 32 fl. oz. and 1-quart bottles. It's the perfect product to keep floors clean. You can learn more about this fast and effective hard floor cleaner below.
Absolutely. This product is safe for multi-surface floors. It can be utilized on stone, tile, laminate, hardwood, and vinyl floors.
It is quick-drying, streak-free, and contains optical brighteners to enhance the finish of hard surface floors.
Whether you are using waterbased solutions or products with plant-derived ingredients, when working with any hard floor cleaner, it is important to test it on an inconspicuous spot first and check the safety data sheet to familiarize yourself with the product. Always use it as directed, and contact us if you have any questions.
Please contact us and let us know which machine you are using so that we can recommend the best product.
No, it has a rinse-free formula, so just spray and wipe away!
Make sure you are following the directions carefully, and contact us if you need clarity on anything. Additionally, we recommend testing the product out in an inconspicuous area first.
Yes, this hard surface cleaner is suitable for kitchen surfaces.
A pH-neutral formulation makes it safe for natural stones like marble that are acid sensitive. When exposed to regular household cleaners that may contain acids, etching or discoloration can occur because the acids react with the stone, which can cause degradation over time.
By switching to a pH-neutral formula instead, you can prevent this from happening and ensure that the stone surface remains attractive for a long time.
Absolutely! You can purchase gallon refills or case quantities.
This hard surface cleaner spray is not designed for heavy soiling on hard floors. We always recommend that you use a heavy-duty cleaner to address these kinds of problems. If you need help finding the right product to help you deep clean floors, please get in touch with us.
If you require additional assistance, know that we are here to help. Our team is committed to providing reliable pre-sales support, so if you need help determining whether this is the right product for a particular application, please give us a call at (888) 509-5831.
Used For Surface(s)
Granite

,

Marble, Limestone, Travertine

,

Application Type(s)
Clean

,

Weight

2.8 lb

9.0 lb