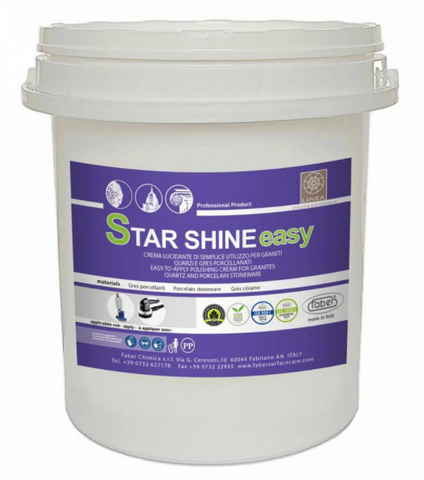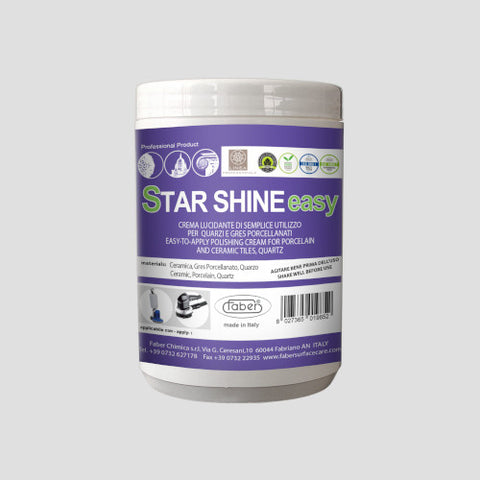 Description
Specifications
Helpful Guides
Reviews
Star Shine Easy is a water-based polishing cream, easy and quick to use, for polishing and maintaining surfaces in polished or lapped porcelain stoneware.

This product replaces with excellent performances, the final phase of mechanical polishing, replacing different grains, offering the material a higher brightness degree compared to the one that can be obtained by diamond grinding, saving time and energy. Star Shine Easy provides the material with an excellent resistance to foot traffic and stains, making it easier for everyday maintenance of the treated surface.
Star Shine Easy is easy to use and does not produce any defect on the surface during brushing. It does not contain any wax, but acts both by chemical and mechanical reaction, directly on the material. The product enhances brightness and restores the original color of the material, should it be partially lost. 
For use on interior or exterior polished or glazed porcelain stoneware, polished or finely honed granites. Coverage: 40/50 m2 /kg
Application:
When applying the product, always use suitable personal protective equipment and follow the instructions on the product safety data sheet with care.
Use Star Shine Easy undiluted, proceeding by small surface portions of about 10 sq ft at a time. Apply the quantity recommended to the area to be treated and work by concentric movements with a floor machine and white pad. Work until the product will be dry, prolonging the movement with the floor machine to remove any possible residue. 
Repeat the application in order to achieve a higher brightness degree or superficial closure. The product does not give any superposition defects; therefore once the maximum of brightness is achieved, no difference will be remarkable between two areas polished separately. After polishing the surface, rinse well with water and vacuum up the superficial residues. 
At the end of application, the equipment used can be washed using water.
Used For Surface(s)
Granite

,

Application Type(s)
Polish

,

Weight

1.0 lb

1.0 lb