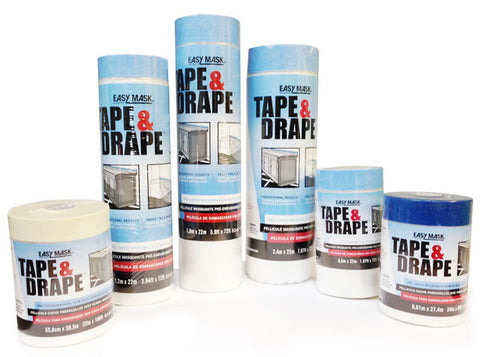 Description
Specifications
Helpful Guides
Reviews
Tape & Drape™ Pre-taped Masking Film is perfect protection for use in areas where you want to catch drips and overspray! 14 Day Blue Tape is applied along one edge of high-density masking film. This film has a unique coating which helps create cling to the surface protected – even in windy conditions or with spray applicators.
Treated film attracts overspray
Film clings to anything
Quick and easy clean up
Straight lines and reduced touch-ups
For commercial and residential use
Available in 2' x 72' individual roll, 4' x 72' individual roll, 2' x 72' case of 12 and 4' x 72' case of 6. All sizes are approximate. Individual rolls may vary slightly.
Used For Surface(s)
Application Type(s)
Weight

7.0 lb

1.0 lb

7.0 lb

7.0 lb