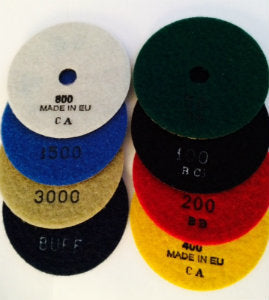 Description
Specifications
Helpful Guides
Reviews
4'' MB-Dry Pads are the expression of phenolic resin at its best!
These pads only work dry, allowing the operator to see immediately the degree of clarity achieved with each progressive grit without having to squeegee and buff dry after each grit. The MB pads give an incredible degree of clarity on any stone and are an absolute MUST for green marbles and even certain mercantile granites! 
Dry pads can be very convenient for the operator and last a long time.
Available grits: 50, 100, 200, 400, 800, 1500, 3000, 8500, BUFF
Used For Surface(s)
Granite

,

Marble, Limestone, Travertine

,

Serpentine

,

Application Type(s)
Hone

,

Polish

,

Weight

0.8 lb

0.8 lb

0.8 lb

0.8 lb

0.8 lb

0.8 lb

0.8 lb

0.8 lb

0.8 lb