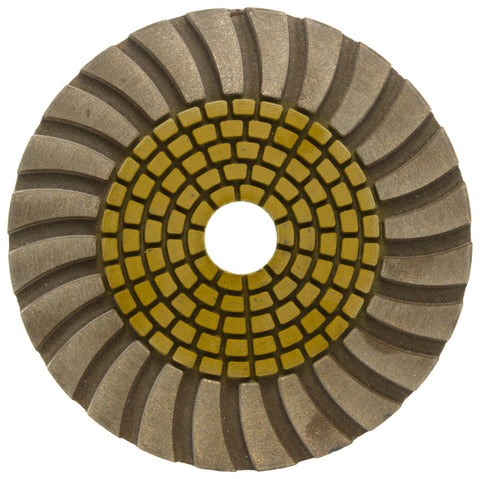 Description
Specifications
Helpful Guides
Reviews
Shine Pads are the ultimate cutting-edge technology available to surface grind and hone granite. Only pads costing up to twice as much come close to their performance! The clarity they produce at any grit (starting from the 400) is the result of a special blend of epoxy resin with a high percentage of inert compounds, mainly copper.
The peculiarity of these pads is the unusual design of their thread; not only does it make a difference in the result, but its engineered in a way where the utmost concentration of inert compounds is on the outer, most aggressive rim. This makes the cutting over each previous grit very easy and almost fool-proof! Polishing after the desired clarity is obtained is just as easy as it gets!
Copper bond exterior with resin bond interior. Aggressive in low grits. Ideal preparation for final polishing. Female hook & loop backing.
Ideal for Concrete, Granite and Engineered Stone.
Available in 4 inch and 5 inch pads.
Available Grits: 30, 50, 100, 200, 400, 800, 1500 and 3000.
Used For Surface(s)
Concrete

,

Engineered

,

Granite

,

Application Type(s)
Grind

,

Hone

,

Weight

1.0 lb

1.0 lb

1.0 lb

1.0 lb

1.0 lb

1.0 lb

1.0 lb

1.0 lb

1.0 lb

1.0 lb

1.0 lb

1.0 lb

1.0 lb

1.0 lb

1.0 lb

1.0 lb

1.0 lb

1.0 lb