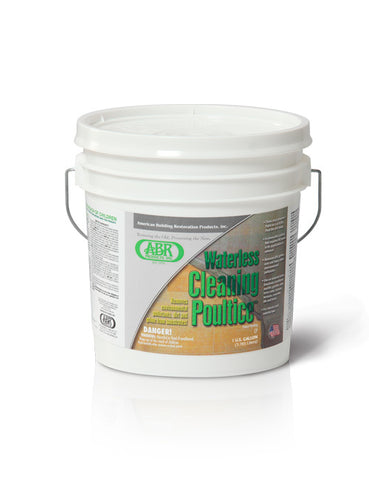 ABR Waterless Cleaning Poultice
Description
Specifications
Helpful Guides
Reviews
ABR Waterless Cleaning Poultice is a ready to use poultice that you just paint on, let dry, and peel the dirt away!
This waterless cleaning poultice is a temporary cleaning coating designed for use on a variety of surfaces, both interior and exterior. This removable mask requires no water in its application! It is designed to collect all dirt, soot, contaminates and trap them within the coating for easy collection and disposal.
For use on brick, textured stone, sandstone, limestone, concrete, marble, ceramic, terrazzo, slate, tile, granite, plastic, painted and bare metal. Apply using a brush, roller, or designated airless sprayer.
Available in 1 gallon size. If larger sizes needed, please call 888-509-5831 to order.
Coverage: Approx 50-75 sq. ft. per gallon at 1/16" dry depending on the porosity of the surface and the contaminants to be removed. 
Storage Requirements: 50°-100°F ABR Waterless Cleaning Poultice™ freezes at 32°F. If ABR Waterless Cleaning Poultice™ freezes it will no longer be usable.
Installation Limitations: ABR Waterless Cleaning Poultice™ should not be applied when the air or surface temperature is below 50°F, or if rain or heavy moisture is forecasted. Do not use on carpeting or fabric. Do not use on any stained wood surface as discoloration may occur. Do not thin.
Preparatory Work: User shall determine the suitability of the product for its intended use and assumes all risk and liability whatsoever in connection therewith. A test area should be processed prior to beginning the overall project to determine precise procedures necessary for most effective results and compatibility to surface being treated. Allow the test area to thoroughly dry then test the ABR Waterless Cleaning Poultice™ for ease of removal and overall results. This is especially important when temperatures are approaching or above 80°F as the ABR Waterless Cleaning Poultice™ may cure in only a few hours.
Application:
Surface must be dry.
Apply at a temperature of 50°F or higher.
Apply a liberal 1/16" thick coat to the surface with a brush, spatula, roller or designated airless spray equipment. Apply evenly to avoid a thin, feathered edge.
For best results, agitation of the surface immediately after application will increase the cleaning action. While the product is wet agitate the surface with a stiff synthetic brush, especially over heavily soiled areas. Dirt and grime will be pulled into the ABR Waterless Cleaning Poultice™ while agitation takes place. After agitation, smooth the surface with additional ABR Waterless Cleaning Poultice™ to create an even film. Spray applications of ABR Waterless Cleaning Poultice™ can be made using an appropriate airless texture sprayer with a max working pressure of 3300 psi, a tip size 27/1000 to 33/1000 depending on desired coating thickness.
The ABR Waterless Cleaning Poultice™ does not require water in its application or removal; however, it is not water incompatible. For example, you may find it helpful to agitate a heavily soiled surface with a water dampened brush to prevent premature drying.
Allow the ABR Waterless Cleaning Poultice™ to fully dry a minimum of 6 hours on the surface. Depending on substrate and amount of contaminates to be removed a 12 to 72 hour curing time may be required.
To remove the dried ABR Waterless Cleaning Poultice™, start at a corner and peel the film away from the surface.
Following removal, wipe down treated areas with a damp sponge to remove any remaining residue.
Note: To ensure the ease of removal, remove from the surface within 3 days of the initial date of application.
Clean Up & Disposal: Rinse brush, roller or sprayer in a pail with water and dish detergent. Do not pour down drain. Dispose of in accordance with state, local and federal regulations. Shipping may be restricted to prevent product from freezing.
Used For Surface(s)
Concrete

,

Engineered

,

Granite

,

Marble, Limestone, Travertine

,

Quartzite

,

Serpentine

,

Slate

,

Terrazzo

,

Application Type(s)
Clean

,

Weight

10.0 lb