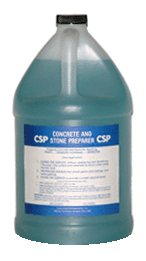 Concrete & Stone Preparer
Description
Specifications
Helpful Guides
Reviews
Concrete and Stone Preparer (CSP) is used to restore tile floors by removing soap scum and cleaning grout joints. It is also used to remove efflorescence from brick. In addition, CSP is ideal to use before sealing. Use CSP for Cleaning New Masonry; Cleaning White or Light Grey Grout; Preparing Concrete Floors Being Coated.   
Approximate coverage is 400 - 500 sq ft per gallon, depending on the porosity of the surface.
Always use wear protective clothing (gloves & goggles) when using CSP. Make sure area is well ventilated. If product comes in contact with skin or eyes, rinse thoroughly with water.
***HAZMAT GROUND ONLY SHIPPING***
Used For Surface(s)
Concrete

,

Application Type(s)
Clean

,

Weight

9.0 lb