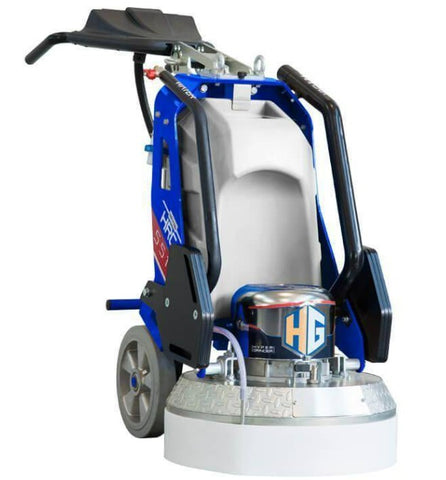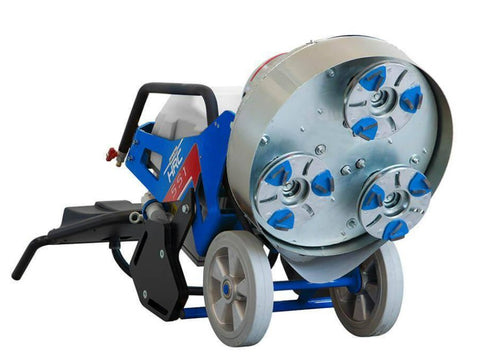 Hyper Grinder HRC 551 5hp Floor Grinder with DCS System and Variable Speed
Description
Specifications
Helpful Guides
Reviews
Special Order - Call 888-509-5831 for pricing, shipping and availability.
Hyper Grinder HRC 551 Floor Grinder, complete with DCS System and variable speed. First grinding machine in the world with DCS System.
Hyper Grinder HRC series introduces the innovative DCS System that puts in one machine only the features of two different ones.
Using the HRC 551 in counter rotating modality, it is a performing grinding and polishing machine for concrete, marble and natural stone floors.
Using the machine in DCS System modality, the speed of the satellites is increased turning the HRC into a high performance industrial floor preparation machine. Suitable for fast removal of resins and glues, for fast exposing of the aggregates and for fast leveling of very uneven surfaces.
Main Features:
Working width 22"/550 mm with 3 size 8"/200 mm tools
Variable speed of tools

Strong gear box with thermo-hardened steel gears for a longer life
No noise during the work
Auto leveling Planetary System
Specifications:
Max Power - 4 HP
Volt - 220
Hertz - 50/60 Hz
Disc Speed RPM - 400 -1000 rpm
Working Width - 22"
Tools Size - 3 x 8"
Water Tank - 12 Gallon
Dimensions - 120 x 125 x 57 cm
Weight - 309 lbs
***Power cord not included with machine***

Used For Surface(s)
Concrete

,

Marble, Limestone, Travertine

,

Application Type(s)
Grind

,

Weight

309.0 lb