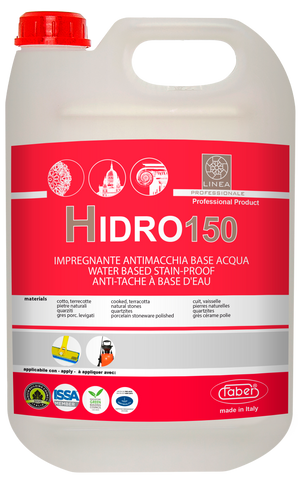 Description
Specifications
Helpful Guides
Reviews
Hidro 150 is a protective, stain-proof treatment, specifically developed to give top-ranking, lasting protection against stains to natural stone and all materials requiring it. Hidro 150 is quick and easy to apply; it forms no surface film and therefore, it does not change the original breath-ability of the treated surface. It has pronounced stain-proof properties Protects material against dirt and staining Adds a high degree of water repellent Resistant to UV rays Will not yellow over time Resistant to the elements Certified for food use Water-based product. Hidro 150 is a neutral product that will not alter the tone or coloring of the material to which it is applied. It is resistant to UV rays, will not yellow over time and is suitable for use on indoor and outdoor surfaces. Hidro 150 is also certified for use with foods and therefore, it can be used to apply stain-proof treatment to kitchen worktops. Hidro 150 can also be used as a surface stain-proofing surface treatment in conjunction with a high penetrant water-repellent primer, such as Hidro Protector MM
Available in 5 Liter Bottle
Materials: Agglomerate cement-marble, Agglomerate resin-marble, Agglomerate resin-quartz, Slate, Sandstone, Basaltina - Lava Stone, Cotto, Granite, Limestone, Marble, Porphyry, Quartzite, Terracotta, Travertine, Tuff
Application Equipment: Brush, Lambswool applicator, Roller, Cloth, Airless
Application:
Preparing and cleaning the surface
Carefully clean the surface, making sure to remove any dust or dirt present.
Never apply Hidro 150 to wet surfaces. The product can be used on slightly damp surfaces; nonetheless, please ensure that the surface to be treated is as dry as possible.
Apply Hidro 150 to surfaces with a temperature of between +5 and +40°C
Any adjacent surfaces not being treated with the product must be protected. Application
Apply an even, thin coat of product to a clean, dry surface with the preferred tool, making sure to create an even layer to cover the whole surface being treated.
The product is fast drying and usually does not create residues. When applied to a compact surface that is not very absorbent, it could leave slight residues on the surface that can be easily wiped off with a clean, dry cloth. In case of very absorbent surfaces, we recommend applying a second coat of product, no less than 45 minutes after the first. Drying time The product is fast drying and in any case, dries within an hour of application. Opening to floor traffic The surface can be opened to floor traffic about 2-3 hours after the product has been applied.
Safety: When applying the product, always use suitable personal protective equipment and follow the instructions on the product safety data sheet with care.
Coverage: 15/20 m2 /l
Used For Surface(s)
Concrete

,

Engineered

,

Granite

,

Marble, Limestone, Travertine

,

Slate

,

Application Type(s)
Seal

,

Weight

11.0 lb