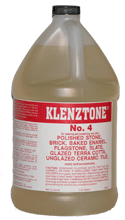 Description
Specifications
Helpful Guides
Reviews
KLENZTONE-4 Stone Cleaner for Polished Stone, Unglazed Brick, Flame Fractured Granite, Flagstone, Slate, Glazed Terra Cotta, and Unglazed Ceramic Tile makes cleaning many surfaces easy even the most sensitive types of masonry. Almost as rapidly as you can apply it, KLENZTONE-4 loosens the grime that ordinary cleaners can't touch. Then, after rinsing with water, surfaces return to new masonry appearance.
Application:
Because KLENZTONE is not allowed to dry and an exposure time must be maintained, while using it on time-sensitive surfaces, the cleaning is done in sections. (Before using KLENZTONE, on the surfaces that KLENZTONE-4 is recommended to clean, you must do a patch test.)
Apply KLENZTONE to a controlled area that is dry and the size of which the material can be quickly rinsed off. Use a brush, roller or sprayer and thoroughly wet the surface.
Allow time for KLENZTONE to work.
Rinse the loosened grime from the surface, using the exposure time determined by your patch test. On floors, the best way to do this is using an auto scrubber, but if one is not available, surfaces can be flood rinsed and wet vacced. Out of doors, high-pressure water is the easiest, most convenient way to rinse KLENZTONE.
After completing rinsing, proceed to the next controlled area, and repeat the procedure. Continue process until cleaning is complete.
Coverage: Approximately 250 - 800 sq ft per gallon, depending on the porosity of the surface.
Safety: Wear rubber gloves, safety goggles and ventilate enclosed areas when using KLENZTONE. If it gets on skin or into eyes, rinse off immediately with water.
Environmentally Safe: KLENZTONE is readily biodegradable and releases no VOCs. When used properly, it poses no threat to the environment. Dispose of all wastes safely according to federal, state and local regulations.
Storage/Shelf Life: Keep containers sealed when not in use, and to prevent salts from crystallizing, maintain product at a minimum temperature of 50°F. The appearance of the material darkens over time, but when properly stored, shelf life is indefinite.
Used For Surface(s)
Granite

,

Slate

,

Application Type(s)
Clean

,

Weight

10.0 lb

36.0 lb