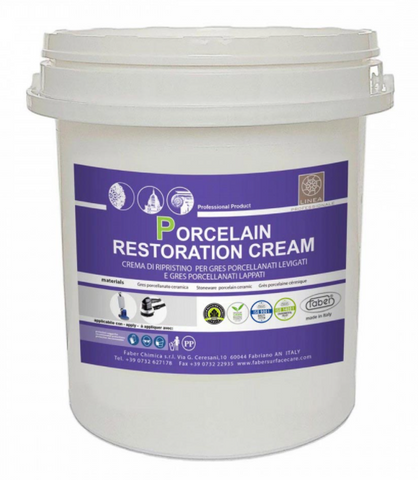 Porcelain Restoration Cream
Description
Specifications
Helpful Guides
Reviews
Porcelain Restoration Cream is a specific cream for the recovery of defects on surfaces in full-body polished stoneware, lapped stoneware and glazed surfaces in general. The product is characterized by the ability to create a very fine surface micro-abrasion, which allows to recover defects such as:
Minor scratches
Scratches
Dullness
General Wear
Porcelain Restoration Cream acts without compromising the original appearance of the surface and can be used within a surface recovery and protection system in honed or lapped porcelain stoneware. Available in 1.5 kg size.
Watch Glossy Tile Restoration System at work!
Coverage is 215 - 320 square feet per KG
Frequently Asked Questions
Learn More About Our Porcelain Tile Scratch Remover

Like leather cream or a wood restoration cream that restores wood finishes, our porcelain scratch repair cream is designed to get porcelain surfaces looking their best! You can learn more about this product in the FAQ section below.
Porcelain restoration cream is typically used multiple times in one area with a white pad while adding extra weight to the machine. This product also worked wet to dry. Keep in mind that it cannot be applied using just a clean cloth. It must be used with a polishing machine.
This porcelain restoration cream is not designed to remove deeper scratches. However, it will reduce some dullness and cloudiness due to surface wear and light scratches.
No, this product has been specially formulated to act without compromising the appearance of existing finishes.
When you use this porcelain tile scratch remover, you can expect the surface to become shiny again. It's important to remember that it will bring the finish back up, but nothing will be as durable as the original glaze.
Yes, this product is intended for stoneware and glazed surfaces in general.
Suppose you require more information about our restoration cream before making a purchase. In that case, we encourage you to reach out to us using one of the following means: 
Call us at 1 (888) 509-5831.

Fill out the contact form on our website, and we will call you back.

Reach out to us on our social media platforms.

Send a text message to 252-289-1584.

Email us at

mail@mbstonepro.com

.

Talk to us using the live chat feature on our website.
No. This product is for professional use only. It is not recommended for those that have no prior experience with restoring porcelain surfaces.
Although baking soda, salt, and borax are well-liked milder alternatives to restoration creams to remove scratches, they can still damage the finish on your porcelain surfaces. Even though these chemicals are seemingly gentle, they are abrasive and will harm your finish, especially if used frequently.
Our restoration cream is specially designed to be gentle on glazed surfaces and will not damage the original appearance of the porcelain while still effectively removing scratches.
Used For Surface(s)
Application Type(s)
Repair

,

Weight

12.0 lb