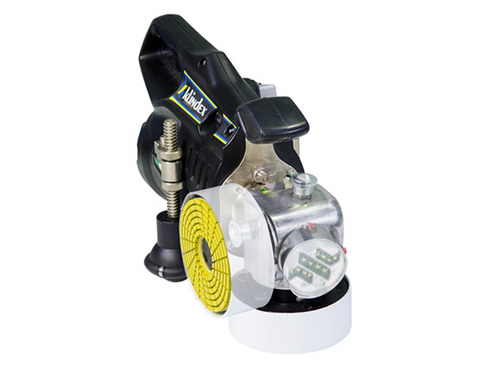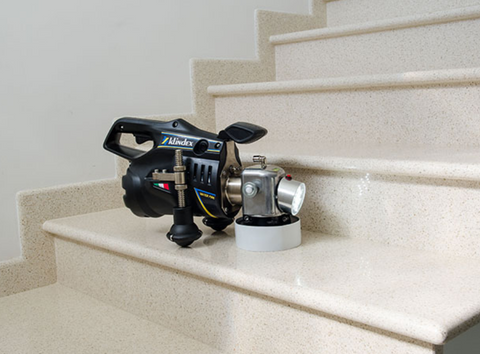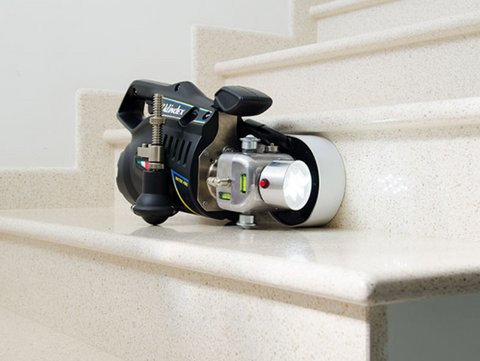 Water Fire Top Variable Speed
Description
Specifications
Helpful Guides
Reviews
Special Order Item
Water Fire Top Variable Speed
Hand grinder with adjustable head, for corners, edges, countertops, skirtings, stairs, for bush-hammer stairs and small surfaces and for open joints.
Water Fire is the ideal machine to achieve a perfect grinding of natural stones, concrete, wood and a perfect polishing of countertops, shelves, tables and narrow areas. It can be used as a edge grinder, as well as a stairs bush-hammer and as a joint chaser thanks to its extra accessories.
Main Features: 
The only hand grinder with IP54 Protection in the world
Exceptional asynchronous motor strength, compared to traditional motor, it lasts longer thanks to the protection from external agents like water or dust
Oversized gears and bearings, compared to traditional hand grinder
Spherical wheels to achieve a perfectly flat surface (to avoid the wave effect)
Front led light to check the working area
Rotating head feature, for joint chasing application
Variable speed
Wet or dry grinding operation (equipped of a water nozzle)
Includes:
Back Spherical wheels with independent adjusting, protective sucking cap 125 mm, splashguard 125 mm, soft platorello 125 mm, adjustable head with spherical guides, variable speed. 110 V 5060 Hz (500-1600 RPM)
***Water Fire Handle Kit available for purchase separately.
Special Order Item - Call 888-509-5831 to order.
| | |
| --- | --- |
| Used For Surface(s) | |
| Application Type(s) | |
| Weight | 23.0 lb |